About Screenshots Download Credits Challenges Music Donate Lost in the Static is a free exploration-oriented platform/jumping game for Windows XP and Vista on reasonably modern (fast) PCs.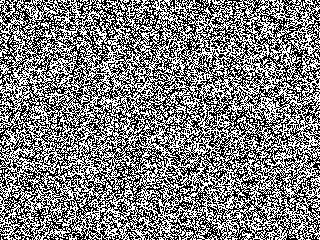 (These are not random dot stereograms. Do not try crossing your eyes.)

Lost in the Static is a simple little game that uses some surprising aspects of the human perceptual system to create a visible world out of animating static.

Please note that this display is not suitable for everyone! Some people find they get headaches or nausea, or their eyes get "all woggly". If you do not find the experience pleasant, stop playing!

The game can be downloaded from the following link. Then just run it. To uninstall, delete it.

If you want to run it in a window, you'll have to use the commandline or create a shortcut, and include the option "-full" on the commandline. Similarly, you can disable sound with the option "-sound".

One user attempted to run under Windows 98 and reported problems with using alt-tab with fullscreen mode, and windowed mode didn't run.
visuals high concept: Sean Howard (not affiliated with Silver Spaceship Software)
design, programming, art, music: Sean Barrett / Silver Spaceship Software
playtesting: Gunther Schmidl, Dan Shiovitz, boucher, Brendan Barnwell
Release Notes
Version 1.1 (2007-09-14): Avoid flicker in windowed mode, attempt to improve lag for some people, fix bug for machines without SSE.
Version 1.0 (2007-09-11): First public release

Can you leap to the left of the pile of gunk in the first room? (easy)

Can you get to the end of the game without having to deal with dodging the shots from that one nasty thing? (very hard)
Other Games
If you enjoyed Lost in the Static, you might also like Nifflas' Knytt.
Modding
Behind the Scenes
I've extracted the music as best I can from the game, given the way it loops and transitions (the game actually only contains 2.3 unique minutes of music). All the music is under copyright, but you are welcome to download it for personal use.

All these pieces are in 5/8 at 90 BPM. Most are in C major or C minor, except Title Fantasy, which is in F#m.
---
Sean Barrett